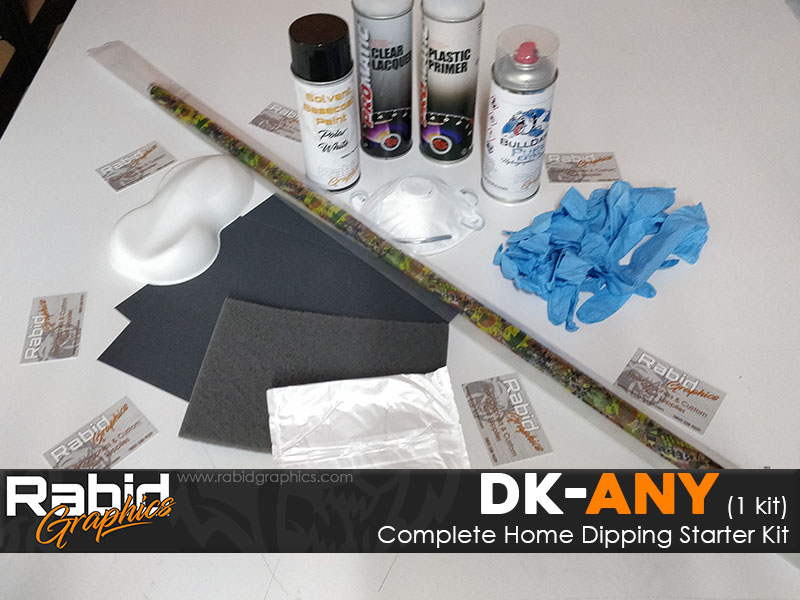 Complete starter kit for home use - all you need is the part to dip, and somewhere to dip it. Find the product code of the pattern you want from our catalogue and enter it in the box provided.
Simply select your preferred Primer, Basecoat colour and Clear Laquer on the right and you're good to go! You are free to use the standard ProMATIC aerosols which offer good quality at a budget price, or upgrade as you prefer to the ProXL range for even better performance, especially on parts which may be exposed to the weather etc.
Certain base colours may not work well with certain films - if you happen to select a combination we don't think will work well, we will contact you to confirm BEFORE we ship your order so we can be a sure as we can be that you are going to end up with the kit you want and the effect you're trying to achieve.
We believe this is the most complete, best value kit on the market but if you find better, please let us know.
You will receive:
1x roll of film - 3 sqm of High-Quality Hydrographics Film
1x 400ml Aerosol of industry-leading Activator - usually Bulldog Pure Extra or Deep Fusion
1x 400ml Aerosol of genuine automotive basecoat paint, now available in tens of thousands of colours*.
1x 500ml Aerosol of Primer - your choice of Grey Primer, Etch Primer, Plastic Primer, Rapid Build Primer or Ultra Build Primer
1x 400/500ml Aerosol of Clearcoat or Lacquer - your choice of Gloss, Satin, Matt or Ultra Gloss (the satin and matt are 400ml, the others are 500ml)
1x Speedshape for practice
1x Grey fine Scotchbrite / Scuff pad - brand may vary but it will be a top-quality pad and usually Indasa
2x Tack Cloths / Tack Rags for the best in dust removal, usually Starchem, not some cheap version.
6x Disposable Nitrole Gloves

2x Sheets of very fine Grit Wet or Dry sandpaper - brand may vary - usually 500-600 grit and Indasa brand.
1x Multi-page guide sheet on how to use the kit.

Expert advice on use is also available via email or phone.
*We can now offer almost any base colour with these kits at an additional cost. The "standard" colours are all the same price as we buy these in large enough quantities to get excellent discounts we are happy to pass on, but custom colours do cost us substantially more so we have to pass that cost on.
All you need to get dipping is somewhere well ventilated to dip, something to hold the water (plastic tubs work well - anything large enough to take your item) and finally the item you wish to dip. This kit is perfect for those small home projects like video game controllers etc.
Complete Home Dipping Starter Kit
Stock Status:

In Stock

Product Code:

DK-ANY

Rabid Graphics